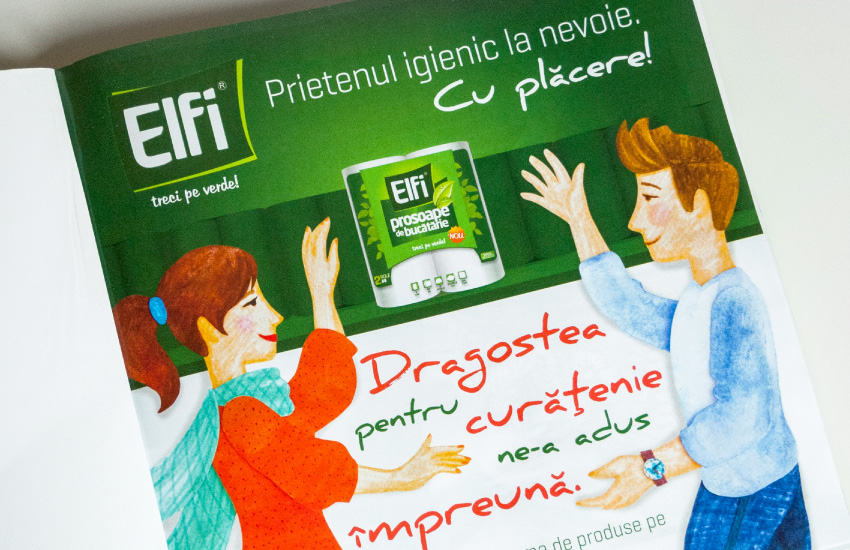 Elfi Campaign 2016
We delivered
Brand Naming, Brand Identity Packaging Design, Brand Narrative, Copywriting, POS Collateral, Webdesign
Brief
Elfi launched a new series of products. And communicating this proved to be the perfect occasion to refresh the brand's image and profile. To put this products in the spotlight it was necessary to have the right context to promote them.
So the idea for a campaign adapted for different mediums was born. Its purpose was to bring the brand closer to the consumer's emotions.
Solution
Right from the start Elfi trusted the solutions delivered by BrainUP. That's why this time as well we were given the trust and creative freedom we needed. Our efforts focused on creating a courageous and unconventional campaign that would tell a story that shines a light on the values of the brand. So we came up and implemented the "Your Hygienic Pal" campaign.
The campaign unfolded through national radio commercials, regional out-of-home and ad prints in different magazines. For radio we created three commercials, each of them focusing on a product story, but all of them under the wing of The Hygienic Pal. The tone of voice is friendly, warm, joyful, doubled by music, voices and the situations we created and it's the right tone for our target audience and in this context.
For out-of-home and print we adapted the concept behind the paper towels and we started drawing, cutting out, glueing and colouring, thus illustrating the story with an image made out of cut outs. We chose to make everything manually instead of relying on computer graphics because we wanted a more organic and authentic result.
Do you wish to find more about this project?
Contact us!